#biba2019 fantastic accolade for a top man ... @AXADavidW !! Personality of the Year !!!
Very proud to have won Transformational Deal of the Year for the @LVviews and Allianz partnership! #BIBA2019
Twitter feed video.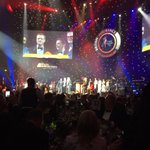 "Working with Miramar took a lot of strain away from us and they delivered a fantastic creative concept for the event." Read about our work on the @HiscoxUK exhibitor stand at #BIBA2019 https://t.co/sGfmVCt0Au #exhibition #conference #b2b #b2bmarketing
Twitter feed video.